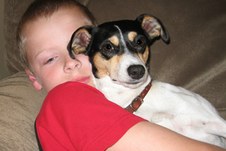 1
PAISLEY

In April, 08, pretty PAISLEY moved to her new parents Christine and Brian Thatcher, who live close by, in Beaverton, Oregon.

She and Moose (lab) were an instant pair. She chased the cats for a day or two, she still occasionally chases them, so does moose. We use a squirt bottle to correct them. In spite of that, the cats go about their business, they are not afraid of the dogs.

My 8 year old son lays on the floor and she kisses him on the face (lips) so relentlessly- he laughs so hard, the more he laughs, the more she kisses...

Paisley likes to "wake up the kids" in the morning, she dive bombs them in bed and wriggles around above and below the covers - wiping her face like a cat and wriggling on her back. My 3 year old just loves this. If my 3 year old ever wakes up grumpy, I call Paisley in and we usually get a laugh right away.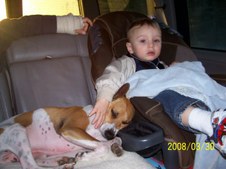 2
SPLOTCH, now COBY

This is Coby with his favorite person, Walker, 2 yrs old.

In March, Splotch moved to his forever home with Candice and Robert Darveau, their adult daughter and grandson, Walker.

Coby came from a very sad situation, having spent 3 years tied in a basement nearly all the time, away from people and the world.

Coby had a lot to learn, but did NOT have to learn to fall in love with the 2 yr old...he came ready to love and be loved by Walker. Coby is pretty much close by Walker all the while he is up and about.

Candy and family love that Coby is a cuddler and a snuggler. Whenever anyone sits down, he is on their lap in a flash. When it's bedtime, he stakes out his spot first right in the middle, and the people have to make a place.
When Walker drags his blankie to a place to nap or play, Coby is right beside or on top of him, snoozing away.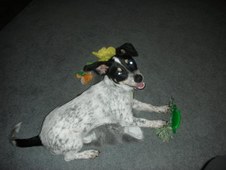 3
CADENCE, now MILO

Milo is your typical Rattie with an abundance of energy but also an abundance of love. Milo loves to run around, acting like a crazy nut. When he is finally tired though, he the biggest cuddler, sleeping in your arms.

Milo is getting to be big. He's weighing in at 21LBS and is estimated to be at least 30LBS. The family is waiting for those Rattie ears to fully stand up though.

Milo must have been a fish or bird in a previous life because he loves the water and heights. He loves showers, baths, and pools but ironically hates to be walked in the rain. Whenever he's hiding somewhere in the house, he can be found sitting in the tub. If Milo isn't sitting in the tub, he's trying to climb the highest chair or jump from one bed to another.

The Melissaratos family is so grateful to Ratbone Rescues for allowing them to include this little bundle of joy into their family.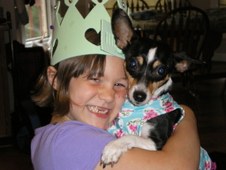 4
SCOOTER

Scooter is just wonderful with both of the children. She has surprised them all by obeying commands given by the 5 year old Aimee. The little girl is totally head over heels in love with their precious Scooter.
Sara tells that just the other day, they were all snuggled on the couch, with Scooter hugged up to the 5 yr old. Aimee let out a huge sigh and said, "Mom, I just love our Scooter Soooooo Much."

Sara and the Aimee's favorite thing about Scooter is that she is a total snuggler who would prefer someone to be carrying her around or sitting with her cuddled on their lap 24/7..what a happy dog she is now, living like a Princess and a real life Happy Tail!

Scooter Short Legs is forever home with Sara and Doug Woosley and their 2 children in Shepherdsville, KY.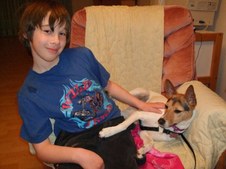 5
COOPER
Photo: Cooper and Trevyn

When Cooper came, Pixie, the family rattie, was not happy sharing her life, family, etc...Now they constantly race around the yard like Greyhounds on a course until they are exhausted and have to come in the house for a drink of fresh water !!

Cooper has bonded tightly with the 11 yr old son, Trevyn, who walks him frequently to burn off some of Cooper's extra energy. They play games, and the son works with Cooper and their female Rat T, Pixie, who is a small mirror image of Cooper. They really enjoy their play time in the family's large fenced yard.

Cooper is definitely part of the family, going with the family everywhere (walking, riding, biking, visiting flyball practices, watching TV, getting a bath, etc.)

Cooper lives in Edmonton, Alberta, Canada with his family Sandra and Paul Roberts and their two boys.


6
BIRDIE

Adopting Birdie has added so much more to our life than we ever imagined. It turns out she is almost completely deaf from what we can tell but that doesn't stop her. She is a quick learner and is a fast adjuster.

She cracks us up all the time and has bonded well with our 10-year-old Sheppard mix Maya and ruler of the house Theo the cat. Birdie loves hiking and adores nature. Her curiosity keeps us on our toes and we have dubbed her "personal trainer" as she makes sure we get our 5-7 miles of walking in every day. If we don't get our walks, then she is like a human personal trainer bugging us until we DO it.

We are so happy with this little spirit and we have even contemplated adopting one more, are we nuts???? Heck no we are having the time of our life!

Thanks to all of you who support with your time and $$$. Happy Tails!

Genie, Dave, Maya, Theo, and Birdie (personal trainer/life coach)
Snohomish, Washington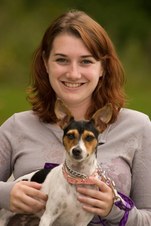 7
RONNETTE GRACE, now GRACE KELLY

Grace loves to play with a few doggie pals she's made in the neighborhood and loves coming out with me to friends houses and the park. She loves to play with people she knows – she loves to get chased around, play tug of war, and ruff house. She also has gained confidence when meeting new people.

My proudest moment is when we were in the park one morning and there was a strange guy just hanging around. I had tried to wait for him to leave but he just wouldn't go. In order to get home we had to walk right by this guy and no one else was around. We got within 15 feet of him and Grace went nuts barking at him. She had finally gained enough confidence to protect her mom!

I love her personality. She is such a happy dog and can make anyone smile and always seems to know how to do the right thing to get some attention.

Jessica Jensen
Seattle, Washington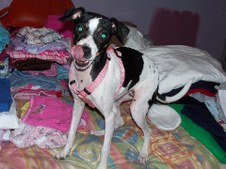 8
CHLOE

"Whew....what can I get into now? I have re-arranged all the folded clothes, and am looking to have some more fun"

Imagine tiny little Chloe expressing her desire to be busy, busy, busy...
Pam and hubby Michael and their young children dearly love their doggie "tornado". She is sweet and lovable and is crazy about all people, loves other dogs, and is just an all around sweetheart.
She loves to chew on Everything, her toys, the kids's toys, their shoes, people are good 'chewies', too.

This little girl goes non-stop. If she is awake, she is on the go. Can you say Hyper?

Chloe is a happy girl, living a Happy Tail with Pam and Michael Palmer, and kids, in Albany, New York.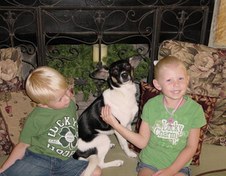 9
GRACE
Photo: Grace with her kids Austin and Leah.

Grace has quickly become a cherished member of our family. She is spunky, energetic and just wants to love everyone she meets. She has boundless energy and is always more than willing to play with the kids. She also loves to snuggle up on the couch and relax when mom & dad need some quiet time.

Grace is a master at destuffing her toys and we have discovered that she is also quite a little hunter. She happily bounds out the door each morning looking for lizards.

The kids just adore Grace and she is so sweet and patient with them. Our daughter Leah thinks it is "so cool" that Grace loves to give kisses. Our son Austin declared recently that he likes Grace better than his teddy bear "'cause she loves me back."

We are so glad that Grace is a part of our family and I am pretty sure she is happy to have us too.

Christy and David Chambers
Jacksonville, FL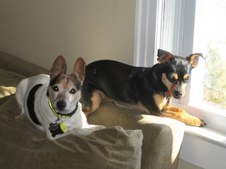 10
MICKEY

The picture by the window is Mickey and his sister Dina keeping watch on the neighborhood. Mickey is the best boy and he loves his sister Dina and his sister cats, Bobbie and Melissa.

Mickey's favorite things are to have his belly rubbed, steal kibble from his sister's bowl when she is not looking, and go for walks around the neighborhood.

Mickey has a lot of friends, all the dogs in the neighborhood love him, the vets at NSAL where mommy volunteers love him, all his aunties, uncles and people cousins love him.

Katherine and Michael Stein
Bellmore, New York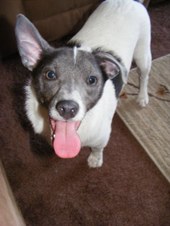 11
HAWKEYE/TOA

We decided to change his name to Toa. Toa not only got a new family, he also got a new canine sister Trixi. The two of them played and wrestled and played and wrestled non-stop. He would wrestle with Trixi, and would literally just roll all over the floor like a roly poly…it was the cutest thing. Although he had adjusted very well to Michael and I, I felt bad for little Toa being tortured by Trixi and wondered if we had made the right decision adding a pup to the house. Before long, it was obvious that we had made the perfect choice. Toa and Trixi are best buds and although they still wrestle and play every day, they also snuggle and share.

My favorite thing about Toa is his laid back personality. He is very much "go with the flow" and is always watching everything that is going on (from a laying down position)

I was incredibly happy with the adoption process through Ratbones. I am impressed with the numb...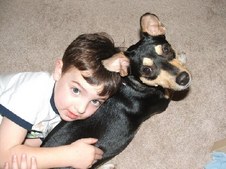 12
POLO
In photo: Polo and her buddy Cameron

In January,08, POLO went to her forever home with Ada and Paul Foshee and their 2 small sons, Cameron and Carson, Florida.

Sweet, good natured POLO brought a special gift to the family, especially to their 5 year old son, Cameron. Just a year ago, Cameron's dear Rattie went to doggie heaven.
Peace has come to Cameron in the loving care and devotion of POLO. She is his 'doggie guardian angel'.

POLO is definitely a "ball girl". If she sees one, it's Hers. She keeps Cameron busy tossing the ball, with her fetching.

POLO is the best kind of doggie companion to all of the family. She is a devoted snuggler. With her stable and wonderful personality, Polo took about "5 minutes" to adjust to the busy life of a family with 2 kiddos under 5 yrs.


13
ALICE

Photo: Steve and Alice

Things couldn't be going better. Alice has her own "blankie" that we take with us to the part of the house where we will be since she stays very close. We also bring it with us in the car when we go anywhere. She is starting to get along well with other dogs. Most of my friends have dogs and Alice fits right in.

We've had he a couple of months now and she has become spontaneous. She will run and play in the house, rather that just stay wrapped up in her "blankie". She loves to go for rides and when I let her out in the front, she will go and stand by the passenger side of the pick-up waiting to be lifted up and taken for a ride. I think she is getting spoiled, but that is O.K.

We can't thank you enough for bringing Alice into our lives. She is a regular member of the family. I certainly don't know what we would with her.

Steve & Laura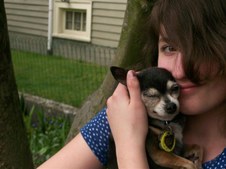 14
WALLY
Photo: Wally and Emma

When we met this dog he appeared to be the most hideous dog on the planet. Weighing 5 pounds, with a hunch back, stiff front leg, cataracts, blind in one eye, only 4 teeth left so his tongue hangs out, and unable to walk up a flight of stairs. The vets put his age at 11-13 years old. After three weeks, he had his first seizure.

Time passed and we discovered that this little guy is so full of love, gratitude, good nature, and sweetness. He smiles at us with his tongue out; he wags his tail like a propeller if you just look at him. As our love for him grew, we learned that he is actually one of the cutest dogs ever!

We treasure each day we get to spend with him We adopted him knowing that he has medical issues and a frail body. Each day we have the pleasure of his company is truly a gift and we honor that.

Wally is living the good life in Seattle, Washington.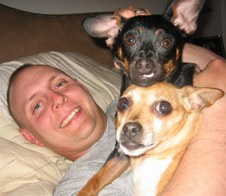 15
NORAH
Photo: Daddy Scot, Norah (top) and Mollie (bottom).

This year we moved across the country. Being so far away from everyone made us all a little homesick. That's when I found the Ratbone Rescues website. On it was a picture of a tiny little shadow of a dog. I knew right away that this little ball of energy would be the perfect little sister for our rattie Mollie. Norah and Mollie began playing right away, and have not stopped since.

Norah has adjusted well to her new home. She has quickly instilled her place in our family and in our hearts. Our pet family now feels complete, and we are so happy that Mollie has constant companionship and Norah has an older dog to help her understand how a dog should behave and be loved.

Just like Mollie, Norah has proven to be a loving and playful companion that only serves to make our lives that much sweeter.

Thank you Ratbone Rescues!

Nora now lives in Washington with Scot, Kara, and Mollie.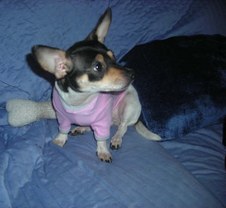 16
ROXANNE, formerly Alaska Angel

We are so happy to have Roxanne in our family now. She is such a character.
She loves her toys; every time we go to the store and buy her a new one she acts like she has never had a toy and this is the greatest thing she has ever seen! When I have food and she wants some she will run around on the back of the couch and sit on my shoulder and try to eat the food as it is going into my mouth. She loves running through the house at 100 miles per hour.

She is such a cuddle bug and cuddles with me on the couch and at night when we go to sleep. She loves to burrow down between me and my husband and she has to be touching both of us at all times.

She is so excited when we come home everyday and it is such a joy to see her too. She is just the most delightful thing and we are so very happy to have her in our lives.

Thank you so much,
Jennifer and Josh


17
ANGELINA

I have adopted 3 dogs, 2 of them from Ratbone Rescues. There is nothing to compare to the joy of giving a dog a second chance. Anyone can buy a dog from a pet store or a breeder, but it takes determination and dedication to adopt, especially the ones that aren't young and perfect. I can tell you that nothing will make you feel more joyful than to see a dog who is coming out of their shell and exploring life.

Angelina had some slight aggression issues from being crated for so long, but now she is over that! She loves to snuggle and have her belly rubbed.

If someone you know is looking for a dog, please get them to adopt. There are so many that need a home and they will be forever grateful to you. Every time you look in their eyes, or see them playing and enjoying life, you will know that you are the reason they exist.

Kelly

Angelina lives with her new mom Kelly and canine sister Hanna.


18
JADA

Carol and Gary both declared that Jada is a Great dog and that she is just the Best dog for them.

Jada is an extremely loving snuggle companion for both Carol and Gary. Gary just laughs when Jada leaps onto his lap, places her paws on both shoulders, and gives him special kisses.

When the Buchanan's grandchildren come to visit, Jada just lights up like a Christmas tree !

Jada is the typical spoiled Rattie girl with lots of toys which she loves to leave strewn about the house. Her favorite toy is a bedraggled and patched up monkey. Jada holds it close at naptime, and always takes it to bed at night, snuggled between mom and dad.

Carol expressed what a joy it has been to provide Jada with a safe and comfortable home for the rest of her life and assuring her that life will be grand from now on.

Jada lives in Florida and Ohio with her new mom and dad.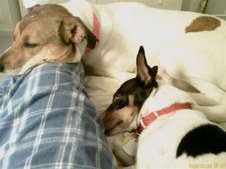 19
COOKY and PRALINE

Cooky (the bigger one) and Praline, during the first 6 months together, adjusting and all, now very happy to be here with me, their new mom, who spoils them like princesses...

pen Jarina of Maryland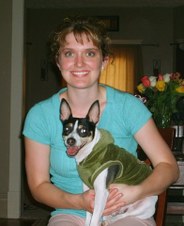 20
MACK, formerly Harpo
Pic: Mack and Tara

February 2008 Harpo, now Mack, moved in with Tara and Jim. Tara tells that Mack acted like he "just belonged" from the very first day. He took to both of them immediately, and was comfortable in his new surroundings and in the yard when they went for walks, too.

After the Kat got over the shock of sharing her home, they are now the best of buddies.

Tara and Jim are enamored of Mack's expressive eyes. They declare that Mack gazes right into their eyes, and reads their moods and feelings just like a human would.
Mack's cute mug has them just head over heels in love with him.

Mack is learning some commands and surely his most favorite is to go fetch one of his toys so they can play catch, or to "go find the Kat".

Mack now lives in Michigan with Tara and Jim and Kitty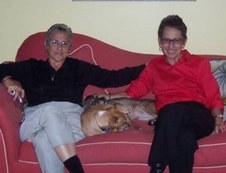 21
NICK

Nick joined the family in January, 08. Nick is the Perfect Match for them, and for their 9 year old female Chihuahua mix, Hannah.

Ronnie described Nick as being the 'most perfect ever dog'. She said he fit in with their family right from the first few minutes, practically. The 2 dogs meshed immediately.

Soma tells that she knew from the first moment she saw Nick and Mary Kay, his foster mom, coming across a dog park to meet them, that Nick was the ONE!!! Her heart began thumping loudly, and she hardly contained herself upon greeting Nick, and spending time with him.

Soma says that this Happy Ending is really a Happy New Beginning, to say the least.

Soma and Ronnie are so appreciative of what Ratbones does for the precious Ratties and their grateful parents.

NICK lives in Sebastian, Florida with Soma Melnick, Ronnie Preuss, and fur sibling, Hannah.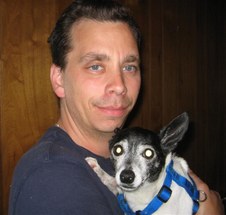 22
SUZY Q

Photo: Suzy Q with Chris.

In the fall of 07, Nathan went searching for the most suitable dog for a single, apartment living guy. Friends advised a small, mature dog, possible a senior.

Nathan found the Ratbone website, clicked on Canada, and found his Rattie heart beat - Suzie Q.

Suzie is a courageous nearly 12 year old who has fought and beat cancer, and now has a promising prognosis.

Nathan looked past Suzie's medical history right into her eyes and deep into her heart. Suzie needed Nathan. Nathan needed Suzie...Perfect Match!

Nathan and Suzie's favorite exercise is walking in the neighboring forests of St Catherine's, Ontario, Canada.
"Adorable. Nathan...your mom did a nice job. That's sweet."
View Comments...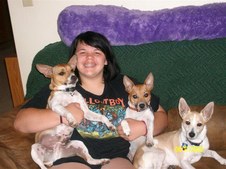 23
TINY

Posing handsome for the camera are Radio, Chopper, and TINY !

In March, 08, Tiny joined Cari and Todd Tharp, their 2 teenagers, 2 Rattie siblings, Chopper and Radio, and a bunch of Cats in Newhall, Iowa.

The 3 Rattie buds spend lots of time tussling and playing. Tiny really enjoys chasing and teasing the cats.

Although Tiny loves going for walks with the kids, he also is a real snuggler, when everyone is piled on the couch, people, and Ratties together, as you can see !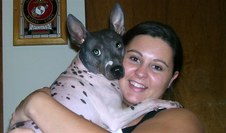 24
SPANKY
Photo: Spanky and his mom Brittany

My husband and I adopted Spanky, an A H T, in February 2007. From day one he has been a cuddler. If you are sitting or laying down he cannot just be next to you- he has to be sitting on you! Though he will be 3 years old this year he still very much acts like a little puppy.
He is so smart- he learned how to give high fives and gives kisses within minutes. Today, I have no allergic reaction to Spanky (even without meds) and Spanky is a happy, playful boy. We are so happy to have him and we wish everyone could find Ratbone Rescues to find their perfect companion. By Brittany

SPANKY's mom and dad are Brittany and Joshua Jewett of Oklahoma City, Oklahoma.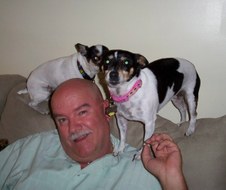 25
CHI-CHI/JAZZY
Photo: Max, Jazzy, and daddy Dave

Jazzy is a wonderful addition to our family. She loves playing inside and out with her toys and her brother Max. She also loves to Cuddle on the couch and always wants to touch you when lying down with you.

We adopted her earlier this year and she has been a joy ever since.
Jazzy is on the right.

Happy Parents: Dave & Jane Conklin of Lawrenceville, GA
"They both look soo happy hanging around their dad! We have 2 dogs as well in our family. Hi Jane I'm not s..."
View Comments...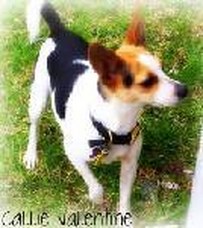 26
CALICO, now CALLIE

Callie has adjusted quite well, is very happy, and enjoys being a member of our family, says Susan Pisan. She says that Callie is such a good natured girl. She has become such an important part of their life.

Susan tells that Callie has taken on different roles and interactions with each of the family.
With Susan, Callie is her 4 footed shadow.
With the 12 yr old, when he calls her name, she comes running and flops down on her back, inviting some quality time belly rubs.
With the 9 yr old daughter, she hops into her lap at all opportunities for some cuddling. Callie loves for the daughter to brush her thick coat.
And, for her favorite, the 5 yr old son, Callie is his doggie guardian angel. She watches over him like she would one of her many puppies she had in the past. She seeks him out for some snuggling.

Callie lives with her family in Neenah, Wisconsin.
"DEAR FRIEND. HOW ARE YOU DOING? I WILL WANT US TO DISCUSES REAL, GOOD BUSINESS.MAIL BELOW IS MY INFORM..."
View Comments...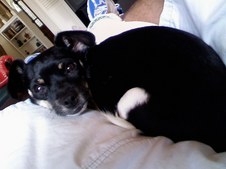 27
RASCAL

Ed laughed right out loud when I asked if Rascal had adjusted well with his new family." RASCAL---he's every bit a Rascal, he sure is"... Rascal is a cuddler and a snuggler; he wants to be as close to Ed's face as he can get. When Ed sits down, Rascal leaps onto his lap and scampers right up his chest to rest his little head right on Ed's chin...the closer the better. Ed slides him down to his lap, picks up the paper, and by the time he gets his paper shook out from the rumples that a flying Rascal has caused, Rascal has scaled his chest again, determined.

Ed and Vivian have huge hearts for dog rescue - Rascal is their fourth dog from rescue at this time. It is a family tradition to provide love and safety for the abandoned.

Rascal lives with his family the Valenzuelas in West Covina, California.
"DEAR FRIEND. HOW ARE YOU DOING? I WILL WANT US TO DISCUSES REAL, GOOD BUSINESS.MAIL BELOW IS MY INFORM..."
View Comments...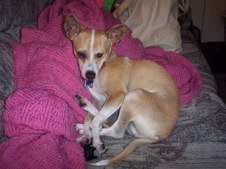 28
TUCKER

TUCKER moved from his foster home in North Carolina, farther South, to, one of Ratbone's foster moms.

Tucker is my best friend. He is so important in my life. I love him dearly. He is a HUGE cuddle buddy, and loves walks, even when i'm tired he entertains himself.

My favorite thing is when I get home from work he is so excited he wags his tail and his whole body shakes, he'll jump and run. When I sit down he'll hug me and he just such a ham.

His loving personality, his sweet disposition, he'll hug you, kiss you, and give you unconditional love all the time, I love our cuddle time he's the best cuddler. he sleeps under the covers and has to be touching me.

Logan and her sweet Tucker are a perfect match, and this is a very Happy Tail for them both !!

Tucker moved in with Logan Blackstock of Jacksonville, Florida,
"DEAR FRIEND. HOW ARE YOU DOING? I WILL WANT US TO DISCUSES REAL, GOOD BUSINESS.MAIL BELOW IS MY INFORM..."
View Comments...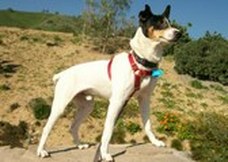 29
JACKSON

JACKSON moved to his forever home with Billie Diane and David Pauletto, of Santa Barbara, California.

He shares the home and attention with his senior female sibling, Sharpei mix, Sadie.

Jackson, our Rattie, is doing wonderfully. He adjusted quickly and is a great member of our family. He gets along well with our other dog, Sadie, but can take or leave her, which is alright with her, as she is rather aloof anyway.

Jackson loves to go to the dog park for walks and has been to the beach a couple of times, but isn't interested in going in the water.

He's a sweet boy!!! We are delighted to have Jackson. He minds well, comes when called, never wanders off when off leash in dog park and knows to stay on the property when we're outside. He's a smart boy!!!

Thank you to Ratbone.

Sincerely,
Billie Pauletto
"DEAR FRIEND. HOW ARE YOU DOING? I WILL WANT US TO DISCUSES REAL, GOOD BUSINESS.MAIL BELOW IS MY INFORM..."
View Comments...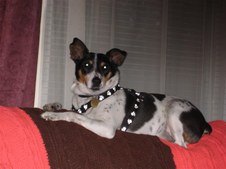 30
LEO

Leo traveled home to Massachusetts in early October. The first week was a 'little shakey' because Gary's 2 cats Did Not Want a Dog !!!!
Leo soon won the cats over, though, and now they sleep together, play together, and even wash each other !

Gary travels a lot, and Leo is his constant traveling companion.
During a recent trip to Florida, they went through many drive in restaurants to eat. Leo always got his own hamburger. Leo soon learned that Drive Thru = Hamburger !! Leo became quite upset with Gary, when going through Toll Booths, he did not receive his burger !

Another thing that Gary and Leo do is take a shower together about once a week. Leo will jump right in with Gary. He has his own shampoo, so Gary just lathers him right up, rinses him off, and Leo is good to go for another week.

LEO lives with his new forever dad, Gary Francis, in Chelmsford, Massachusetts.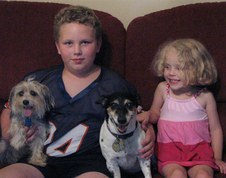 31
DOLLY
Photo: Max, Kalib, Dolly, and Kaylee

It's been almost 5 years since we got Dolly and we truly Love her. She is a great part of our family. Since adopting Dolly we have had another child and gotten another dog (Max, he's a yorkie/mini pin mix).

Thank you so much for what you do!

Lisa Suckow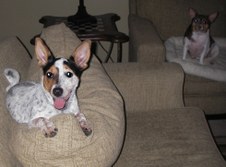 32
MELODY, now EM

Our family adopted Melody who we now call "Em" in May 08.

Em is the sweetest kindest little girl, who loves to cuddle and sleep wrapped around your shoulders or head. Her sister Rattie is Sugar Bean, a very sentimental family loving girl. At the moment there is a little power struggle going on, Em is much bigger than Sugar and climbs over Sugar and lies on her. Sugar is definitely the dominant female and puts Em in her place very quickly. Em will just flop around and try again and again. She eventually gives up and falls asleep next to Sugar.

As you can see by the pictures, Em's coloring is absolutely gorgeous.
Both girls are so different in their eating styles, Sugar is a very fussy eater, Em would eat You if you could sit in her food bowl!

Both girls love to go on car trips, they sleep from the moment you put them in the car until you stop.

They are the best.......
The Kleyweg Family
Delray Beach
Florida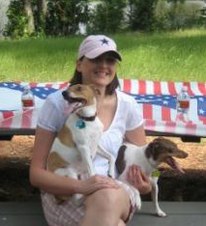 33
MOCHA

Photo: Vino and Mocha

Mocha is doing great. I have already taught her to sit and lay down on command. She is a very smart girl! She has also learned to walk on a leash.

This little thing has wiggled her way into our hearts...big time! She goes to my in-laws during the day while we are at work, where she has the company of her new brother Vino, Chloe the maltepoo, and Nikki the mini-rattie. It was amazing the first time Nikki and Mocha met, Nikki immediately bonded to her, and they just love each other. We will never give up on this little sweetie, challenges will come and go, and we will deal with them accordingly.

Oh yeah, Mocha and Vino are best buds. They were lying on the floor earlier nose to nose chewing on Dingo bones. Vino shares willingly with Mocha.

Mocha lives with Ashley and Nathan Lesniewski of Flint Texas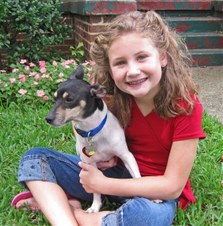 34
My name is JoeJoe and this is my story. I was rescued by Jackie Nuckols and her granddaughter, Loren Ledbetter. I had been thrown away by my Mom and Dad because they were getting divorced. I was very sad and scared. One thing I love about my new home is I get to sleep in bed with the cover over me. My adopted Mother thought I would be good for Loren because her Mom and Dad were getting divorced also. As it turned out, Mom said I did more for her than anyone. I have a brother in my new home who is a cat we love each other. We both sleep with our forever Mother, and Loren when she comes over. Sometimes we go to Loren's grandfather's farm and I get to run and play with his dogs. I don't shake so much now and I have learned to play! I'm glad I'm in my forever home."

JoeJoe lives with his mom Jackie in Tuscaloosa, AL.
"Merry Christmas, Laren & JoeJoe!!"
View Comments...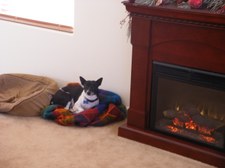 35
Jack was reunited with his owners August 6, 2008. Ratbone Rescues has Jack's parents' undying gratitude due to their diligence in getting Jack home to them.

Jack lives in San Miguel, CA with Pat and her husband and is very happy to be back home with his family.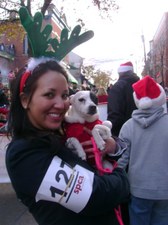 36
ROSIE now PAISLEY

Rosie is now Paisley and she adjusted in 2 days to her new home. She was hyper and ran around and sniffed everything when she first arrived. Her foster mom said Jacqueline might have a hard time keeping Paisley out of the crate - but that never happened. Paisley loved being out of the crate. She loves long walks and snuggling. Everything Paisley does makes Jacqueline smile. In her town, they have an annual parade for pets - where they dress up in Christmas costumes. There were over 650 dogs and Paisely was runner up in her Santa Costume. The judges spent about 5 minutes with each dog and they thought it was cute the Paisley would jump up into Jacqueline's arms whenever Jacqueline would put her back on the ground.

Paisley is living the good life in Cinicinnati, OH with Jacqueline.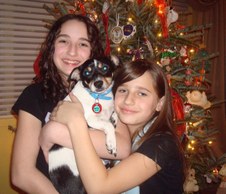 37
BEETHOVEN now MCSKIZLE

He adjusted with almost no issues - nervous with stairs at first, but now is doing fine. The greyhound took to him instantly. He has a thing for toilet paper. He is very active, loves to snuggle and sleeps in bed, under the covers, down by their feet. He is living a charmed life. He knows he is cute and can get away with things.

McSkizle lives in New York with Andreana and family.


38
ALFRUN

Bernie and Teresa are thrilled to share how much they love "Alfie". They adopted her in October and she is estimated to be about 3 yrs of age. She has become quite the typical rattie companion and even "helps" with the laundry!
Alfie has adjusted very well with her new parents whom are both retired, and wasn't shy for very long. She follows them around everywhere and they rarely leave her alone. She is an only pet, but gets along well with other dogs when around them. She does love to snuggle alot! And, it sounds like Alfie has learned how to do rattie-500's throughout the house, especially early in the mornings. They agree that it's very entertaining and not a problem at all.

Alfie lives with Bernie and Teresa in Woodstock, VA.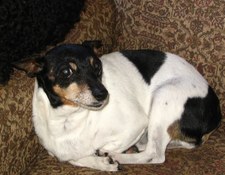 39
JACKIE

Brenda is very happy to report that Jackie is doing very well for her after having a very rough start coming from a pound. She was very close to being PTS. When the vet wanted to give up on Jackie because of her skin issues, Brenda stepped in and saved her.She has some scarring from the bad skin, but it sounds like it's no longer an issue. She was also Jackie's foster mom and has actually had her for a quite some time. Brenda says that Jackie follows her everywhere, waiting on a chance to jump up into her lap for some love. Jackie actually worships the ground that Brenda walks on, which says a lot for Brenda's kindness and patience with her. Jackie is a snuggler and is happier with that than a lot of exercise.

Jackie has found her perfect match with Brenda.
""Jackie actually worships the ground that Brenda walks on" reading that made my heart swell a..."
View Comments...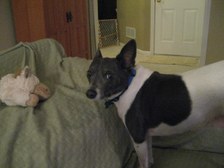 40
MINNIE MOUSE

Donavan and his family adopted her after also being her foster parents. A couple of adoptions had fallen through, so they felt that it was meant to be for her to become a permanent family member. They named her Minnie Mouse because of her overbite, which gives her a cute mousy appearance. Minnie Mouse fit in really well with their other ratties (Wylie and Daisy) and the rest of the family. The three dogs actually like to groom each others faces. She enjoys jumping in their laps for kisses. Donovan adds that she makes them smile daily and is a joy to have. She is active and loves her toys and especially affection. She has this really funny thing that she does-When she first gets up she literally belly crawls across the floor in what they call "scooching" and then rolls onto her back and does the same with her back. It's her form of getting everything rubbed and scratched before moving on into the day.

Minnie is at home with Donovan and family in Woodstock, GA.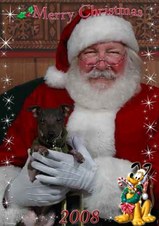 41
NOODLE

I am happy to report that Susan, who adopted American Hairless Terrier Noodle in October, is extremely pleased with this little fellow. He is a very sweet and cuddly little guy, and she loves him dearly. Susan told me that she always said that she would never dress a dog up, but he has his own wardrobe. She agrees that being hairless, it's a must! But she doesn't mind him wearing clothes, and loves the fact that there is no shedding with Noodle.

He has great house manners and gets along well with the cats. Noodles is also very loving and loves to sleep under the covers with her. He enjoys long walks and the attention that he gets when they are out. Most people are very curious about this cute little hairless guy and his clothing. He has a couple of favorite toys including a stuffed bumble bee that he loves.

Noodle makes his home with Susan in Jacksonville, FL.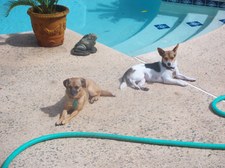 42
SCAMPI SQUIRRELTAIL

Scampi's new mom can not say enough good things about her. She is so wonderful and they had a big Christmas and she got along with eveyrone. Sue's 9 year old grandson carried her around, and Scampi played with her 2 year old great grandson. She is so sweet and they just love her. She gets along well with everyone and seems as if she has always been there. People who come to visit want to adopt her. Sue was saying good bye to her daughter, and Scampi sat in the hallway and cried. She thought Sue was leaving. She is very active and is the most active dog they have. She snuggles in bed, and when she gets feelings hurt, she really snuggles at the shoulders between Sue and her husband - Carl. Everything she does makes Sue smile and laugh. She just loves her so much. She is just a wonderful dog and everyone laughs at her. She loves to lay on the bed and take long walks. She also loves the beach.

Scampi now lives in Fernandina Beach, FL with Sue and Carl.
"What kind is the other dog. My girl Fawn looks just like her & we do not know what she is Thanks R..."
"She is Chi. and a Pug, called a CUG."
View Comments...


43
TENNYSON

Tennyson went home in October to his new mom Cathy. After being a streetdog before coming to Ratbone, he adjusted much quicker than she expected. It took him just a few days for her and a little longer for her husband. He wasn't shy for long. He loves to run and play in their large back yard, even in the snow, but yet also loves his couch time.

Tennyson was abandoned in a vacant parking lot in the area where Ratbone Rescues was attending an event in Tennessee. He was not in the best of shape and some Ratbone folks captured him, taking him to the vet, and he eventually ended up being adopted by Cathy. This is a very happy ending for this little guy and they are extremely pleased with the adoption process.

Tennyson now resides in Berlin, WI with Cathy & Bob.