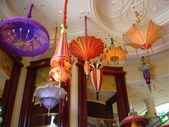 1
Parasol Down at Wynn Resort and Casino in Las Vegas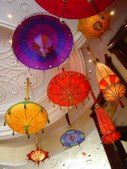 2
Another View of the ceiling in Parasol Down at Wynn Resort and Casino in Las Vegas.
Composition of this decorative treatment was elegant in style, rich in color, exciting in dimension, and enchanting in texture. A phenomenal concept all around. I was completely inspired by viewing this display of creativity!


3
A Fountain at the Wynn Resort and Casino. Visiting the Wynn Resort was a very memorable experience. Every direction, every turn, revealed something artistic happening that intrigues and engages.


4
A Dale Chihuly art glass installation at the Bellagio Resort in Las Vegas. Impossible to capture with a mere photograph, but as an inspirational meditational view it is remarkable.


5
A collection of angles and textures photographed at Ceasar's Palace in Vegas. I find the arches, angles, and undulating features in this composition very inspiring.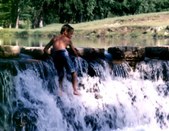 6
What can possibly stimulate a mother more than fond memories of her children. This is William on a small waterfall at a resort in Texas when he was about six years old. He caught his very first fish from this pond. His bronze body dappled in shade trees over a cascade of foaming water with a backdrop of mirrored water and pale green, inspires me and fills me with love for my sweet child. He is a big boy now and emailed this week to tell me about a new job and a new apartment. I wonder if I will ever see him this playful again.